Learning outside the classroom
While Stephen Grelle sorted through his CD collection in his new room in UMR's Residential College, his girlfriend, Emilie Lueker, was thrilled that her spacious abode, one floor above Grelle's, accommodated a collection of another sort.
"The rooms are big, and I have space for all my shoes," she says, opening her closet to reveal a stack of flip-flops.
But the roominess of this new building wasn't the only thing that attracted Lueker, a freshman engineering management major from Manchester, Mo., to the Residential College. The new facility's focus on learning outside the classroom was also a selling point.
Like the roughly 250 other students who call the Residential College home at UMR, Lueker belongs to one of four learning communities designed to bring together students who share interest in a broad academic area. The idea of the learning communities, a recent development on campuses across the nation, is to fortify traditional classroom learning with after-hours education that is linked with residential living.
The Residential College provides a common living space for students interested in these four areas of study: women as global leaders (Lueker's specialty), experiential design (Grelle's), global research and global entrepreneurship.
Tina Sheppard, UMR's director of residential life, says that the combination of residential on-campus living and academics enriches the college experience, and students readily agree.
Of the 140 students participating in the learning communities last year, nearly 100 returned this year to live in the Residential College
One college — four communities
1. WOMEN AS GLOBAL LEADERS
Paula Lutz, dean of the College of Arts and Sciences, teaches the Women as Global Leaders course with Cecilia Elmore, EMgt'86, director of UMR's Women's Leadership Institute. The course focuses on assessing and developing leadership skills in the context of helping others.
"Studies show that women want to go into careers they can perceive as helping people and working with people directly, such as medicine, law or environmental-related fields. There's this negative imagery of physics, computer science and a lot of engineering professions as being the 'Dilbert,' working in a little cubicle and not working around people," Elmore says. "We want students to realize that through these professions they personally can change the world for the better."
"In our recruiting efforts, we're trying to show women that there are ways they can polish leadership skills and help people directly through all disciplines – science and engineering as well as medicine, law, humanities and social sciences," adds Lutz.
Megan Winkelmann
Year: junior
Major: double majoring in mechanical and aerospace engineering
Hometown: St. Charles, Mo.
Fast fact: would enjoy working overseas
When Meghan Winkelmann decided to switch her major to engineering, she knew UMR would be "the natural option." What the transferring sophomore didn't realize was how much she would soon influence how the Residential College's Women as Global Leaders Learning Community was taught.
Winkelmann and fellow classmate Genevieve "Genny" Walters weren't sure what to expect during the community's inaugural year.
"We were really interested in the class and thought it had a lot of potential, so we wanted to help improve it," says Winkelmann. The two submitted a proposal to make the service project more relevant to the whole group by focusing on women's issues and local charities.
"I'm really pleased they actually listened and liked my ideas," Winkelmann says. "I've really been happy here. Since I've come here, I've felt like I found a home. Everyone I've met has been really helpful. Transferring was a great idea."
2. GLOBAL RESEARCH
Mariesa Crow, dean of the School of Materials, Energy and Earth Resources, enjoys teaching freshmen in the global research track because "they're more open." Students seemed to bond as they listened to researchers on campus talk about their experiences and traveled to places like Argonne National Laboratory. "It gives them a sense of community and belonging, which leads to academic success," Crow says.
Emilio Nanni
Year: junior
Major: double major in physics and electrical engineering
Hometown: Rolla, Mo.
Listens to: everything from Styx or Queen to rap and techno
Growing up, Emilio Nanni knew his father enjoyed his job and that one day he would follow in his dad's footsteps. What he didn't realize was that those footsteps would one day echo on the same campus.
The son of Antonio Nanni, the Vernon and Maralee Jones Professor of civil, architectural and environmental engineering, Emilio has always been drawn to teaching and doing research but "needed to figure out which field."
Now in his second year with the Residential College's Global Research Learning Community, Nanni's favorite class exercise from last year's course was a four-day trip to Sandia National Labs in New Mexico. It was there he met UMR graduate Joan Woodard, Math'73, who is now executive vice president and deputy director at Sandia. "It's inspiring to see what can be done with a good education," he explains.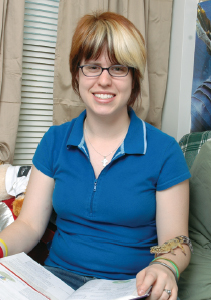 3. EXPERIENTIAL DESIGN
Flexibility meets function in the Experiential Design course, team-taught by Robert Mitchell, dean of the School of Engineering, Robert Stone, director of the Student Design Center, and Paul Hirtz, assistant director of the Student Design Center.
"They need to think about what design really involves and what kind of education they'll need to make a difference in today's working environment," says Mitchell. "We focus on real examples and common practices of engineering design."
Renee Eimer
Year: freshman
Major: architectural engineering
Hometown: Decatur, Ill.
Roommate: Marius, a leopard gecko
Listen to Renee Eimer talk about her desire to meld math and science with art and it's easy to see why this M.C. Escher fan was drawn to UMR's Global Design Learning Community.
"Here, people are passionate about what they do, just like me," Eimer says.
The daughter of Cathy and Rich Eimer, EE'71, Renee was familiar with UMR but got the scoop on coursework expectations, campus life and more during Hit the Ground Running, a summer course for students between their senior year in high school and enrollment at UMR.
"It's like boot camp for college," Eimer says. "We took half a year's worth of classes in three weeks."
Ready to join a student design team, Eimer says she's looking forward to learning more about all of the teams during her learning community's classes.
4. GLOBAL ENTREPRENEURSHIP
Arlan DeKock, dean of the School of Management and Information Systems, says most of his students in the global entrepreneurship course are interested in starting their own businesses, but adds that they should work for an established company before they build their business. During that time, they can experience first-hand how a successful business operates.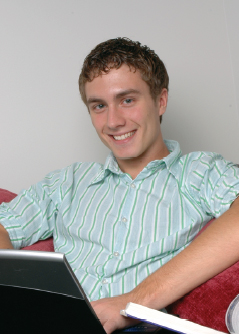 "You've got to be willing to risk it all; you can't play it safe and start something that's yours," DeKock adds. "There are national studies that claim that the average successful entrepreneur failed two or three times before they made it big."
Ty Cobb
Year: sophomore
Major: engineering management
Hometown: St. Louis
Hobbies: Ultimate Frisbee, billiards and softball
Related to one of baseball's fiercest competitors, Ty Cobb has the drive to succeed in his blood.
His great grandfather's cousin was the Ty Cobb, one of baseball's greatest players and a legendary hitter. So when the younger Cobb was looking at colleges, he found UMR presented him with the perfect pitch: a place to network and learn how to start his own business through the Residential College's Global Entrepreneurship Learning Community.
"I've always liked solving problems, but I couldn't see myself sitting behind a desk doing technical work," Cobb says. "I'd like to start a multi-disciplinary consulting business to help clients with their problems."